Sensible Days 2007… in other words: The Ultimate Meeting Of Legends!
Prologue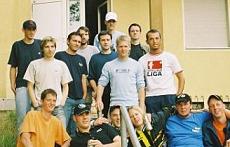 What had happened? In the year 2005 we were a small group of 11 people, a year later just 13. Well, Redhair and me became reconciled to the fact that there won't ever be a real big event. Around 20 people seemed still be possible but not more…
Whatever, as long as we enjoy it and only a handful of nice people travel to Pirmasens it's definitely worth to go on with the tournament tradition. After the Days 2006 it was something like a miracle. But it wasn't a real miracle if you take a closer look.
To attract people to Offline tournaments it only needs other people who put in some work and mount something. National as well as international, of course. It's very clear: Before you get something you gotta give something. Maybe I sound precociously here but: Rome wasn't built in a day!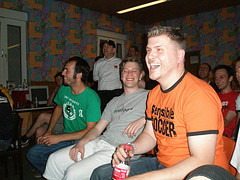 Intentionally, I name Pallister here who played more ranked Offline matches on Amiga last year than project founder ElMichaJ in 5 years of ss.de-existance. Although the first Central Germany Cup had not enough contestants (6) compared to the work Pallister put into it, it was still the start of a trend.
With promotion in the forums, pictures and reports on the website it seemed very easy to start own Offline events. Djowger came in the place with his first SWOS-Cup up in Aalborg (Denmark). Pallister and his mates were on fire. Foreign assignment… that was also the key word for Oli O., ElMichaJ and myself. Our aim was, (surprise, surprise) Denmark as well. The honourable tournament of the Danish ISSA in Copenhagen has taken place since last century and really attracted us.
After their top players had participated on the first Days in 2004 there was a lack of communication in the years between. The time was right to pay them a visit and give rebirth to old rivalries (on pitch) and friendships (off pitch).

In the meantime Pallister's friend Waenae81 established his regional event in Salzgitter.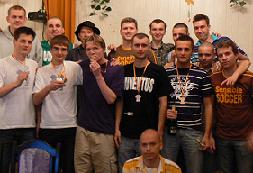 Whilst the webnews and newsletter dealt mostly with Online events in the past you were looking into the faces of real life event winners. It was something you could really catch hold of.
In the first half of 2007 some more events were played in Turkey (Sensistanbul, organized by Enbino) and Poland (Wroclaw and Polish Open, organized by Foka and Tom+), each of them started on SensibleSoccer.de. In short, it went like a clockwork. To announce the Days 2007 in January was a good move and people had enough time to consider joining it and plan a trip. The list of participants got longer and longer. By the start of August the CVJM house was sold out.

It's nice to play online, no doubt. But people wanted more! That was very clear...
Preperation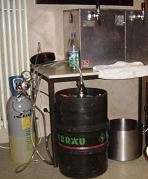 I don't want to bore my readers with bureaucracy. Just that bit: The account management and bookkeeping was a huge amount of work. That's what I wanted to mention here. But now, some more interesting things…
"What can we do?", asked Zeus, "…the community of gods is drunken!"
This famous quote from the Greece god father came to my mind when I started to figure out how to satisfy the thirst of a bunch of SWOS-freaks (43 in the end, plus supporters) who rounded three quarters of our planet just to get to Pirmasens. Not to talk about the logistical problems of this issue. In 2006 it was a no-go to carry up lots of beer cases for 13 people. This needed to be changed. Result: Beer out of barrels, a pump and a cooler. YESSS!!!! That's some proper festival stuff! But there was still the logistical problem. Allright, we ordered a drinking delivery service. Damn, this was going to be huge!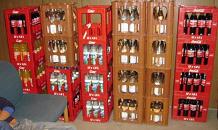 The Sensible Days as a competition for local funfair events? Ok, ok… it wasn't that commercial (SWOS something for the masses? LOL…). But it seemed strange at least as this huge truck from a local brewery parked in front of the CVJM house. Redhair shook his head in disbelieve.
The drinking stuff was done. What to do for the food? After some discussion we decided to buy a ton of spaghetti and Bolognese. Redhair's girlfriend volunteered for cooking services. For breakfast we ordered 100 bagels for Saturday and Sunday each. And that was about it.
Special food was available on pitch. Calibres like Rasmus and Coolio are definitely roasted porks! You must be a good eater to finish them off. ;-)
Our technical equipment for PC and Amiga was looking quite good. Redhair and myself got the biggest part of it ready whilst some friendly and supportive guys brought the things that were missing. They shall all be named in the acknowledgements at the end of my report.
The PC tournament (Saturday, the 18th of August 2007)
On the prior Sensible Days we used to play in a big league with following play-offs. This was impossible now due to the mass of players. We decided to play in 5 groups with 8 or 9 players each where the first 3 would qualify for the second round. The five 4th-placed players had to play a knockout group with 1 leg where only the first would qualify for the last place in second round.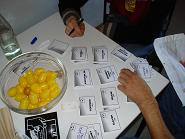 By reason of this very strong and international field of players we invented a drawing system where the best players from each nation are in the same pot (means they won't meet each other). In the weeks before the event we made some experiments to make sure this works. And it really did. The groups were fair, almost equal strong but horror groups were still possible.

No doubt, credit was given where credit was due with so many great players. Just draw some piece of papers or broken matches? No way… this had to be bigger and better and the real world of football was our role model. Have you ever watched that on the telly? It's full of drama, intensity and thrilling to watch how your favourite club gets drawn in a ceremony like the Champions League draw.
Here is the complete show again:
It ended up in 5 very strong groups, each of them with thrilling duels and exciting stories. Some of them even started in the weeks before the event.

Group A: Marty, Coolio_Jack, mt653, Junior, Schulle, Stromberg, Inbloom, Eleven, Watzlaff
(9 players, 16 matches each)

In the fore field of this tournament there was a heating debate on the forums about DIY leagues. Especially mt653 and Junior (among others, including myself) took part in that and posted their opinions. Both of them convinced about their point of view. And now, they faced each other in the same group which was an interesting story. Apart from that people were curious about Coolio_Jack's performance on the PC as an Amiga-online specialist.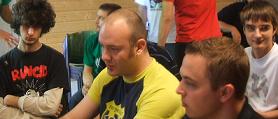 After Junior produced some abysmal results in his first matches it was very clear that Marty and Coolio would be fighting for the top spot whilst mt653 had a race with Junior for the desired 3rd place. Almost like last year Schulle was far from his Amiga abilities on the PC. Even Stromberg couldn't handle the PC gameplay that well and ended up 6th with 18 points. The competition in this group was to hard for both, Eleven and Watzlaff. Eleven managed to get away with 3 wins on his behalf while Watzlaff was completely killed (0 points, 0-47 goals). It was a new negative-record in the history of this event.
Highlights of group A consisted of the clashes between Coolio and Marty where each one managed to win his home game (4-1 for Marty, 2-0 for Coolio). And that out of all just mt653 was winning 1-0 against Junior in the second leg of the group was a major surprise. The Italian hadn't played PC for years (if ever) and was far from Junior's experience. But he still won with style. Junior blundered once again and lost against Inbloom and so mt653 outran him for the 3rd place.
The deciding factor for Marty's 1st place was his consecutive run of home wins whilst Coolio stumbled against Schulle (0-0).
Group B: Peter, M.C.T., Karlos, Pallister, AndYpsilon, Torpedo, Manuel, SensibleSWOS
(8 players, 14 matches each)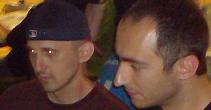 Group B was very strong and powers were about equal. From the outset Peter (No.1 of ISSA) and M.C.T. (legend from the "Witnesses") were listed as favorites. The outcome of the rest of the group wasn't clear at any point. Excitement was guaranteed.
The first beat of the drum was Torpedo's 2-0 win over Peter in the first leg. But Peter didn't seem to get nervous. After that incident he played on a world class level and trounced nearly all of his opponents. After his defeat against Torpedo he only conceded 5 goals in 13 consecutive matches. Even M.C.T. was unable to stop him and stayed 9 points behind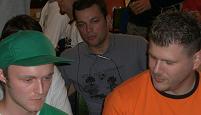 Karlos and Pallister were main opponents for a 3rd place battle where Czech guy Karlos took advantage of his PC experience and finished ahead of Pallister. Nevertheless, Pallister played awesome, fought like a lion and reached a 3-3 draw against Peter in one of the best group matches of the whole event
In the l half group B AndYpsilon, Torpedo and Manuel had nearly no chances to get near place 4 which allowed a qualification. English man SensibleSWOS who isn't an active online or offline player was confronted with a complete superiority of the other players. In the end he was happy with 2 wins over Torpedo and Manuel. Pallister had to go to the qualification round as 4th placed.
Group C: Marin Parushev, Klinki, Oli O., Daniel P, Dzem, Benja, ElMichaJ, Sasy, Insane
(9 players, 16 matches each)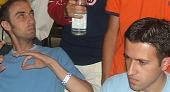 Marin was the clear favourite in this group. No other national number 1 had been drawn in here. In short: Marin won this group with 39 points in total and his goalkeeper was only beaten 8 times in 16 games. Only Daniel P. could win against him.
Behind him two German players stationed themselves. Klinki and Oli O.! Klinki? Yes, right. The Eifel-Crew member played a sensational tournament. Who'd have thought that? In the end he was 3 points ahead of Oli due to a 4-1 win in the direct encounter. A really big surprise. If a bet was ever save it was the one for Oli's 3rd place (32 points). Somehow he has reserved it. A respectful gap in between left Daniel P. from Denmark on the 4th place and through to the qualification round.


And where was Insane? This question is to be taken more literally as one could think. Because Insane was really not there, physically. After having partied non-stop on Friday night he nearly fell asleep in his first matches. After the 7th group match he was gone… to bed! The rest of his matches were all set to 0-3 for his opponent. It was disappointing but you cannot be mad at a guy like Insane.
Dzem finished 5th placed and encountered some problems with the PC gameplay. He seemed to be too focussed on Amiga, somehow. Benja from Denmark bowed down to the stiff European competition and reached the 6th place. Both, ElMichaJ and Sasy played a disappointing group stage on PC but the events shall be turned around on the Amiga on Sunday.
Group D: Lucaa83, Playaveli, M4rk, Asboy, Greg, Paulinho, Bomb, Paider
(8 players, 14 matches each)

This group was one of the strongest. Lucaa83, Playaveli and Greg, furthermore M4rk and Paul Turner, each of them with a big reputation and a big name. Greg was making a comeback after his legendary impact of 2004. But in the years between the level of SWOS improved. This group guaranteed intensity. From the start Lucaa83 (normally an Amiga specialist) played super strong and effective. His defense was concrete and his attack deadly. Not even Playaveli could stop him. He finished this group after an unbeaten run of 14 matches (12w, 2d). Playa's attack lacked of effectivity (only 26 goals). But his defense was a wall, just like Luca's (only 7 goals against).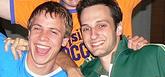 The rambling underneath place 2 was going crazy. Until the second last leg there were only 2 points between the 3rd and 6th place. M4rk, Asboy, Greg and Paulinho gave each other a close head-to-head battle until the end. M4rk won out and finished 3rd place with only 13 goals (-5 on agg.) and 19 points. With that score he would have been kicked out in all other groups.
Noted in the margin: Except Luca and Playaveli ALL players had a negative goal difference in this group.
The 4th place decider had to wait for the last group leg. Greg played below par and had a disappointing group phase compared to his reputation (only 4 wins, 7 defeats). But even with 15 points he was on the 4th place because of a better goal difference as Paul Turner.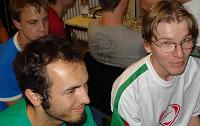 Asboy from Denmark had 13 points and in his last game he faced Playaveli. He just had to win there, no matter how to make sure to qualify. Before the match Playaveli was stuck on the 2nd place, without a chance of promoting to No.1 or dropping down to No.3. Asboy put up a great fight and with the support of his ISSA friends he managed to win against Playaveli (2-1) who disappointed with an abysmal performance. But Asboy asked for a thriller. He missed the chance of a secure qualification due to his defeat against Paider (1-2).
But where was Bomb? Well, he was on the second last place but somehow had the second BEST defence. That was some crazy stuff. Unlike his defence his attack on PC really sucked (7 goals only). Altogether he had 9 draws in 14 matches, where 5 of those ended in a scoreless 0-0. Paider was totally chanceless among all these strong players but he played with honour and lost with style. His victory against Asboy will be remembered.
Group E: Rasmus, Redhair, GEO, djowGer, Wänä81, Thomas, Dior, Colorado
(8 players, 14 matches each)
This group was clearly devided into 2 halfs. Rasmus, Redhair, GEO and djowGer were just too strong fort he rest. But let's stay in sequence…


Rasmus had a furious start and fully played up to his reputation of being a goal scoring superstar hero. GEO, a favorite himself, was completely shocked and trounced by Rasmus (3-5). Redhair pulled level to Rasmus but didn't score as many goals as him, due to his tactical nature. Redhair versus GEO ended in a draw and with that Rasmus held the 1st place right before the long awaited clash with Redhair.
Before they started to play many other players gathered behind them to watch this spectacle. And the guys who thought about an unstoppable Rasmus were proven wrong. He literally lost his teeth while biting into Redhair's defence wall. Redhair's counters were deadly and he had an amazing performance to win with 4-1. His motivation was very clear.


In the meantime Djowger secured his 4th place with winning all his home matches against the underdogs. Nevertheless he was no threat to the Top3.
GEO stayed on the 3rd place after a 2-2 draw with Redhair. In the second half of the group campaign Rasmus got his revenge with a victory over Redhair (3-2). Only Djowger managed to steal a point from him in a 0-0 draw.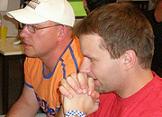 The second leg of GEO vs. Redhair was a real cracker and fight for the 2nd place. GEO was already up with 3-0 when Redhair managed to equalized with some super cool goals. In the 90th minute GEO scored the late winner for a 4-3 victory. A real highlight of the whole group stage. With that, GEO was 2nd behind Rasmus but stumbled over Waenae81 (0-1) and was overtaken again by Redhair.
Waenae81 was stuck to the 5th place after the 6th leg and was 4 points behind Djowger in the end. Thomas who decided to participate in the last minute before the event managed to collect 12 points with 4 wins. Polish player Dior was second last here with just one win for his record. Nevertheless, he played with great enthusiasm and lost with style
On the table bottom there was Colorado who reached two draws against Dior (1-1, 0-0). He still was responsible for a great atmosphere and his participation was a benefit for his tournament.
Group stage stats:
Best attack
Best defence
Most goals per group
Fewest goals per group

57 goals
(Rasmus)

Ø 0,5 goals conceded
(Peter, Playaveli, Lucaa83, Marty, Marin)
195 (group E)
147 (group D)
Chippings:
Only Lucaa83 remains unbeaten on group stage!

Watzlaff with a historical negative-record (0 points, 0:47 goals)!

M4rk on 3rd (!!) place with only 19 points and -5 goals in group D. In all other groups he would have dropped out of the tournament with that

score

.
Directly qualified players for 2nd round:
Marty, Coolio_Jack, mt653 (A), Peter, M.C.T., Karlos (B), Marin Parushev, Klinki, Oli O. (C), Lucaa83, Playaveli, M4rk (D), Rasmus, Redhair, GEO (E)
Following players had to play the qualification round for the last spot in 2nd round:
Junior, Pallister, Daniel P, Asboy, djowGer
(Interesting: 3 ISSA players and djowGer from Denmark as well)

With only one leg the aim for everybody was obvious: Do not loose!
Junior and Asboy managed to do that with three wins each. The direct encounter ended in a 1-1 draw. Junior's goal difference (+7) made him win the qualfication round.
Unfortunately there were some technical issues and it took way too long to finish these matches (almost two hours).
Rasmus (Keyboard) – Junior (Keypad) (3-1, 4-2)
This duel of ISSA players (secretary vs. chairman) was dominated by Rasmus. The way the matches went showed that these two guys know each other by heart and Rasmus is definately a stylist that Junior doesn't prefer to play against. In the end Rasmus got away with two invulnerable wins.
M4rk (Keypad) – Peter (Gamepad) (1-3, 1-2)
A very interesting encounter between the dutchman and ISSA's No.1 player. Overall, Peter had advantages in both matches but M4rk was able to defend very well in the beginning and had some nice counterattacks on his behalf. At the end of leg 1 Peter's aggressive attacks led to some easy mistakes by M4rk; Peter pounced on them and scored twice.
In the second match it was Peter who played counterattack, and it was successfull again. In a hard-boiled and cool style he went through to the quaterfinal. M4rk put up a good fight but in the end it wasn't quite enough.
Oli O. (Competition Pro) – Lucaa83 (Keypad) (1-2, 1-4)
Prior to the event it wasn't quite clear who would be the favorite between these two players on the PC. But after Luca hammered everybody in his group he was entering this match as favorite. Nevertheless Oli O. was performing very well in the first leg and created some nice attacks with his famous playmaker passes. But as it often happens for Oli his attackes missed the last bit of vigorous effect. Luca himself was using his long ball style to overplay the midfield and get into dribblings with his center forward. On two occasions he succeeded and scored.
The second leg was clearly dominated by Luca who was changing his playing style a bit to put more pressure into Oli's own half. That caused some easy mistakes and Luca pounced on his chances like a killer and deservely reached the quaterfinal.
Playaveli (Gamepad) – Klinki (Tastatur) (5-1, 2-0)
Whereas Klinki could surprise everybody with his group stage performance his road to glory ended against Playaveli. After Playaveli scored the quick 1-0 in the first leg Klinki managed to equalize for a short time but shortly after his defence was ripped apart by the favorite. The second leg was an easy win for Playa who took advantage of all his experience.
Karlos (Propad) – Marin Parushev (Keypad) (1-1, 1-2)
Czech Republic versus Bulgaria, a very intense clash. Both players focussed on a clear sheet in defence for the beginning. Marin was able to outweigh Karlos' offline-experience with his online-experience. These matches didn't produce a lot of trouble in the areas so that one mistake on each side led to a 1-1 draw. The second leg was dominated mostly by Marin and he got away with a not undeserved 2-1 win. It was close but Marin made it to quaterfinal.
Redhair (Competition Pro) – Coolio_Jack (Keypad) (1-0, 1-2; Replay: 0-2 n.V., 90min. 0-0)
This duel was the ultimate block-buster in the second round. Think about it, Redhair versus Coolio in a second round play-off... that alone underlines the huge amount of top players at this event. Both of them finished "only" second in their groups and this is why the drawing produced this encounter. And it was going to be 100% as great as it was expected to be. Non of the other matches had more spectators that this one. Nobody wanted to miss it.
the first 10 minutes of the first leg Coolio and Redhair checked each other out a bit and from then on it was a giant battle and a never before seen heading festival. The ball volleyed from each half into the other without touching the ground too often. Infact, it looked more like Tennis than Football. Many of the spectators shook their heads in astonishment. These two guys produced a show of its own, extra class! Once the ball was down to the floor intense tackling situations were witnessed and it came to Redhair's mind that the only way to success against Coolio was on the floor and never in the air. And his goal for the 1st leg 1-0 victory was a prove of his PC experience. On the Amiga this shot probably wouldn't have hit the back of the net, thus leaving Coolio surprised but not shocked.
The second leg wasn't one bit worse than the match before and Coolio's stye got more and more aggressive. He was putting so much pressure on Redhair now that he literally pressed the ball over the line two times whilst Redhair scored another cool and easy PC goal. 1-0 und 1-2 after the regular legs.… a replay had to decide who would go through. The tension was boosted... Here is the replay on video
| | |
| --- | --- |
| | 89th minute: The moment when Redhair's keeper saves the penalty... unfortunately the only picture of this duel! |
M.C.T. (Gamepad) – mt653 (Gamepad) (2-0, 2-0)
The Serbian guy M.C.T. was dealt as favorite prior to this encounter. And it proved to be true. To be fair. mt653 was very hard to beat on PC asl well due to his concrete defending skills but overall M.C.T. really showed some coolness and played very clever. His sweeper was heading the balls out like it was done by Obi Wan in former times and his attacks were ball-secure and placed patiently. As a specialist on the PC, M.C.T. was well aware of mt653's Amiga-based style and was looking for a gap between the Italian's defenders. In both legs he scored two times and went richly deserved through to the quaterfinal. Nevertheless, the Italian mt653 played a good tournament and striked sails with his head held high.
Marty (Propad) – GEO (Propad) (3-3, 1-2)
...brother duel or internal Czech championship... no matter on how they looked at it, they had each wished for a different opponent but the drawing was unlucky for them. But the matches had nothing to do with brother love, infact it was the opposite. The first leg was seemingly played with open targets and goal was followed by goal. Both, Marty and GEO focussed on their defense for the rematch and none of them wanted to risk easy mistakes. In the end GEO qualified for the quaterfinal with a close 2-1 win. Marty was yet eliminated after having won his group.